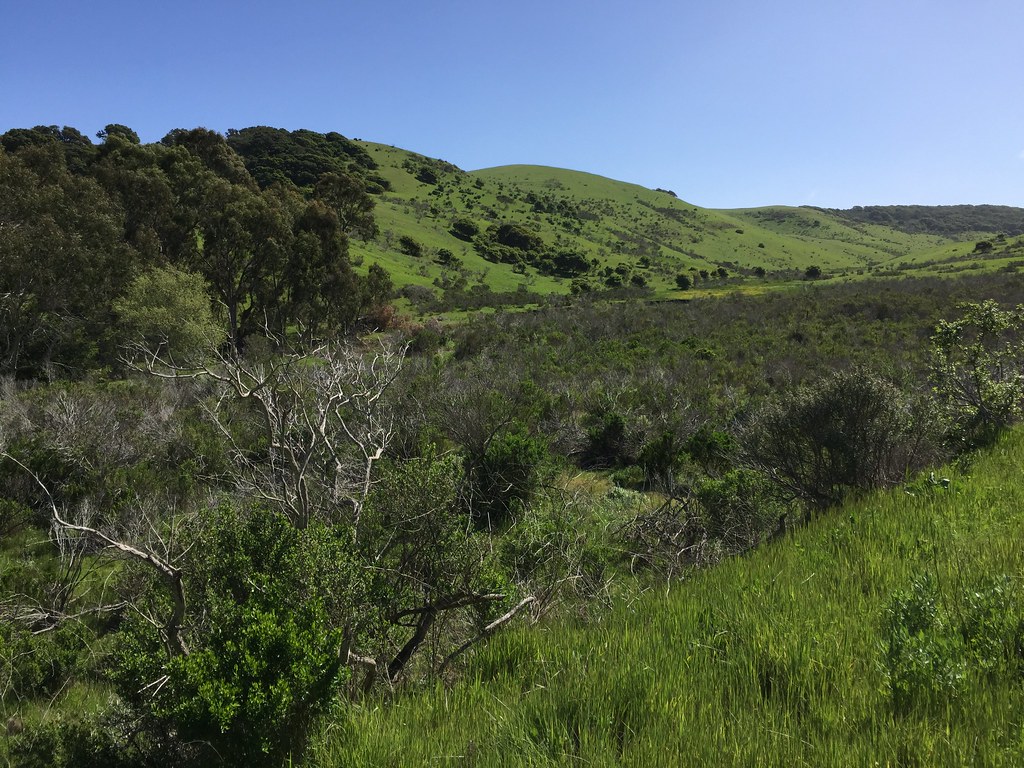 Mission
The Central Coast Invasive Weed Symposium (CCIWS) is an annual workshop designed to encourage active engagement in the conservation of California wildlands. First held at California State University, Monterey Bay in 1999, this symposium provides a venue to share information about invasive weed control, native plant restoration, and stewardship for Monterey and Santa Cruz counties.
It provides an opportunity to meet and network with other like-minded people working (both paid and unpaid) to stop the spread of non-native invasive plants, visit project sites where weed control efforts are in full swing, hear success stories, and earn continuing education units.
CCIWS is a joint effort of the Monterey and Santa Cruz County Weed Management Areas.
Goals
To protect and restore California's native flora and fauna for future generations to cherish and enjoy.
To protect and prevent the introduction and spread of invasive weeds
To investigate and promote the adoption of best practices in the prevention and remediation of invasive weed species
To engage the wider community in the protection of California's native ecosystems.
History
During the 1990's the decision was made to close Fort Ord and the U.S Army began funding the Bureau of Land Management's use of a 20-person California Conservation Corps crew on Fort Ord to remove wildland invasive weeds and complete natural resource improvement projects. With multiple agencies and landowners involved across Fort Ord's 28,000-acre landscape, invasive wildland weed management appeared daunting so, in 1997, a few bright-eyed university and government agency representatives decided it would be a good idea to organize a Weed Management Area on Fort Ord and to hold a weed symposium.
California State University Monterey Bay (CSUMB) was in its toddler years in the late 90's yet its faculty and students' support for non-profits was key to the lift-off of the Fort Ord Weed Management Area and the annual War on Weeds Symposium. In 1997 the 1st symposium was attended by approximately 50 people. This inaugural event was so well received by participants that organizers decided to make it an annual event.
Entering the new millennium, the Fort Ord Weed Management Area was folded into the newly established Monterey County Weed Management Area, and its various participants, with critical leadership by the Monterey County Agricultural Commissioner, assumed the organization of the annual War on Weeds Symposium. Later which would later be renamed the Central Coast Invasive Weed Symposium (CCIWS). Partnering organizations in the CCIWS include Bureau of Land Management, Elkhorn Slough National Estuarine Research Reserve, California Native Plant Society, California State Parks, and the Resource Conservation District of Santa Cruz County, CSUMB.
In 2010, it became clear that more is better in collaboration of invasive weed abatement efforts. Thus, it was decided that the symposium would alternate years between Santa Cruz and Monterey County venues, with leadership being shared between representatives of both counties' non-profits and agencies.
In many ways CCIWS is a proud mini version of California Invasive Plant Council's annual symposium. Our CCIWS annual symposium focuses on the nuts and bolts of removing invasive weeds and current weed research. We also discuss how policies regarding prescribed burning, habitat restoration, climate change, integrated pest management, and Dept. of Pesticide Regulations help dictate the ethics, requirements, and opportunities for successful wildland weed abatement. The symposium cost is under $80 and includes a morning of speakers, a healthy and hearty breakfast and lunch, post-lunch laws and regulation speakers for those interested in Continuing Education Credits, and afternoon field trips for everyone.
We thank participants from throughout California who have attended our 20 symposia and the many partners who have supported them!